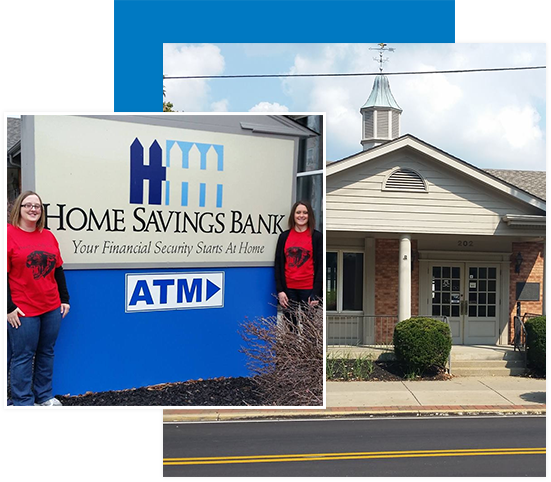 Story Of Home Saving Bank
Your Financial Security Starts at Home
Serving the financial needs of our customers and community for over 81 years.
Home Building Association was founded on January 1, 1941 in Ludlow, KY.
10-31-1985: Main Office moved to current location 202 Elm St
01-01-1998: Changed Institution Name to Home Savings Bank, Fsb

Helping you find financial security from checking accounts, to mortgage loans and beyond.

Offering you a variety of outstanding checking account services to meet your specific needs. Explore our Home Standard, Small Business, and Gold Accounts.

It's never too early or too late to start saving money. We offer numerous savings account options to help you reach your goals. Open an account and watch your money grow.

Fixed-Rate, Adjustable Rate, Construction, Second Mortgage, Line of Credit, and Investment property mortgage loans are available at Home Savings Bank.


Great bank
Great bank! They work well with small businesses.
Jacob N

25+ Year Customer
I've been banking with Home Savings Bank for 26 years! I absolutely love how welcoming the (staff) girls are with each visit made. They are ALWAYS more than willing to help in any way possible with ALL of your banking needs! Not to mention that "home town feel" you get as you walk through the door! I LOVE the personalized experience I receive each time!
Kathryn L

Very friendly and personal
Very friendly and personal.. They like to know who's banking with them. They make you feel that your business with them is important. Not to mention that you are important. I've never experienced that any other bank I've been to..
Christopher S.
Here to help with your banking needs

We want to help you reach your financial goals. If you have any questions or are ready to get started, please give us a call.